Your North Carolina Interlock® Metal Roof Dealer -  The Leader in Metal Roofing
METAL Roofing WAKE FOREST NC
Metal Roof NC has been providing metal roofing services in the Wake Forest area. We are certified, insured and bonded. We specialize in residential, commercial roofing and exterior services. In business for over 22 years, Metal Roof NC has become the trusted name for metal roofing Wake Forest NC. 
 Our commercial and residential metal roofing technicians are certified and trained in all the latest techniques and products. This knowledge sets us apart from other fly by night roofing and exterior companies who are less educated and take chances with your home. Don't let your home be their education.
If you're looking for a new metal roof and you want it installed by the best metal roofing contractor Wake Forest has to offer, then give Metal Roof NC a call!
 As a homeowner, putting a new metal roof on your home is one of the biggest investments you will make and it's a very important decision. There are hundreds of metal roofing contractors in Wake Forest to choose from, but getting the work done by the best residential and commercial metal roofing contractor will give you peace of mind in knowing that you will get the best quality metal roof that fits your budget.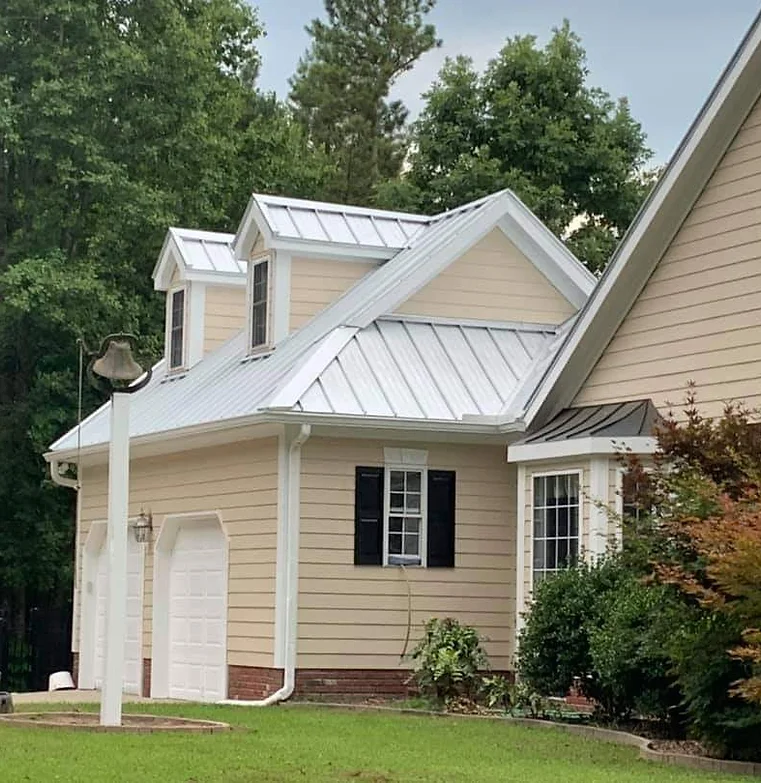 METAL Roof Styles In  WAKE FOREST NC
INTERLOCK® SLATE METAL ROOFING
Introducing Interlock® Slate Metal Roofing, the perfect marriage of classic elegance and modern innovation. If you're seeking a roofing solution that combines the timeless beauty of natural slate with the durability and practicality of metal, look no further.
Say goodbye to the worries of cracking, chipping, or rot that often plague natural slate. Interlock Slate Metal Roofing is crafted from high-quality steel or aluminum, designed to withstand even the harshest weather conditions. This means your roof maintains its beauty and structural integrity for years to come.
When you choose Interlock Slate Metal Roofing in Wake Forest, you're choosing the perfect blend of aesthetics, durability, low maintenance, and eco-friendliness. Make a wise investment in your home's future—elevate your roof with Interlock Slate Metal Roofing today.  READ MORE 
INTERLOCK® SHAKE METAL ROOFING in wake forest
Interlock® Shake Metal Roofing redefines the possibilities for Wake Forest homeowners who adore the rustic charm of traditional cedar shake roofing. This roofing solution captures the authentic look of cedar shakes while delivering the durability, longevity, and low-maintenance benefits that modern homeowners demand. Interlock Shake Metal Roofing allows you to enjoy the timeless appeal of shakes without the typical drawbacks, such as rot, mold, and insect infestations. Crafted from robust steel or aluminum and designed to withstand the harshest weather conditions, this roofing option is virtually maintenance-free. It retains its structural integrity and aesthetic allure over the years, sparing you the inconvenience of regular upkeep and providing enduring value for your home. Moreover, its eco-friendly design and energy-efficient features make it a responsible choice that aligns with sustainability and provides insulation to regulate your home's temperature. Elevate your home with Interlock Shake Metal Roofing and enjoy a roofing solution that combines classic aesthetics with contemporary practicality. READ MORE
Interlock® Cedar Shingle Metal Roofing: Classic Elegance, Modern Durability
Interlock® Cedar Shingle Metal Roofing represents the perfect fusion of classic elegance and modern practicality. For homeowners who appreciate the timeless beauty of cedar shingle roofing in Wake Forest but seek a roofing solution that offers exceptional durability and minimal maintenance, this is the ultimate choice. Interlock Cedar Shingle Metal Roofing authentically replicates the appearance of traditional cedar shingles. Each metal shingle is carefully crafted to capture the natural grain, texture, and charm of wood, creating a roof that exudes rustic elegance. Whether your home's architectural style is classic or contemporary, cedar shingles harmonize beautifully with a wide range of designs. READ MORE
Introducing Interlock® Tile Metal Roofing, where classic aesthetics meet the strength of modern engineering.
For Wake Forest homeowners who desire a roofing solution that blends the timeless beauty of clay or concrete tiles with unparalleled durability, this is the pinnacle of roofing excellence. Interlock Tile Metal Roofing authentically replicates the look of traditional tiles with meticulous precision. Each metal tile is designed to capture the texture and charm of natural clay or concrete, creating a roof that exudes elegance and curb appeal. Regardless of your home's architectural style, these tiles provide a versatile and stylish complement. READ MORE
Elevate Your Wake Forest Home with Interlock® Copper Metal Roofing
Interlock® Copper Metal Roofing is the epitome of timeless beauty and enduring strength. For homeowners who value the rich, warm patina of copper and want a roofing solution that combines elegance with modern durability, this is the ultimate choice. Copper has been celebrated for centuries for its stunning and ever-evolving appearance. As it ages, it gracefully transitions from a bright, shimmering finish to various shades of brown, bronze, and green, creating a roof that exudes classic charm and curb appeal. Whether your home's architectural style is traditional or contemporary, Interlock Copper Metal Roofing provides an exquisite and versatile complement. READ MORE
Elevate Your Home with Interlock® Standing Seam Metal Roofing in wake forest
Interlock® Standing Seam Metal Roofing is where sleek, modern aesthetics meet the enduring strength of top-tier engineering. For homeowners who appreciate contemporary style and demand a roofing solution that combines modern beauty with unparalleled durability, this is the ultimate choice. Interlock Standing Seam Metal Roofing is characterized by its clean, unbroken lines and distinct raised seams, creating a minimalist look that complements various architectural styles. Whether your home design leans towards modern, industrial, or traditional, these roofing panels add a touch of elegance and distinction. READ MORE
Wake Forest, North Carolina: Where Community Meets Opportunity
Nestled in the heart of North Carolina's Research Triangle, Wake Forest is a charming and vibrant town that seamlessly blends the warmth of a close-knit community with the boundless opportunities of a thriving region. With a rich history dating back to the 19th century and a commitment to progress, Wake Forest has become a destination that offers something for everyone.
Historical Heritage: Wake Forest proudly embraces its rich history. The town was originally home to Wake Forest College, which played a pivotal role in shaping the area's cultural and educational identity. Though the college eventually moved, its legacy lives on in the form of Southeastern Baptist Theological Seminary. Visitors and residents alike can explore the past at the Wake Forest Historical Museum, providing a fascinating glimpse into the town's heritage.
Community Spirit: The heart of Wake Forest is its welcoming and tight-knit community. Residents often come together for events like the Wake Forest Charity Car Show, the Mardi Gras Street Festival, and the Christmas Parade. These celebrations create a strong sense of togetherness, making Wake Forest an excellent place to raise a family or establish lasting friendships.
Educational Excellence: Wake Forest takes its commitment to education seriously. It's home to several highly regarded public and private schools that offer a first-class education. The proximity to prestigious institutions like Duke University and the University of North Carolina at Chapel Hill also means that residents have access to top-notch higher education opportunities.
Natural Beauty and Recreation: The town's proximity to Falls Lake and several parks and green spaces ensures that outdoor enthusiasts can enjoy activities like hiking, biking, boating, and picnicking. E. Carroll Joyner Park, with its beautiful gardens and serene atmosphere, is a favorite destination for residents.
Business and Career Opportunities: Wake Forest is part of the booming Research Triangle Park region, providing residents with an array of career opportunities. The town's economic development efforts are attracting a diverse range of businesses, from startups to established enterprises, fostering innovation and growth.
Cultural and Artistic Scene: The Wake Forest Renaissance Centre is a hub of cultural activities, hosting concerts, art exhibitions, and theater performances. The center's commitment to the arts enriches the town's cultural tapestry.
Quality of Life: With a low cost of living, excellent schools, and a strong sense of community, Wake Forest offers an outstanding quality of life. Its proximity to Raleigh, just a short drive away, ensures that residents have easy access to big-city amenities while enjoying the charm of a smaller community.
In conclusion, Wake Forest, North Carolina, is a town that truly offers the best of both worlds. Its rich history, vibrant community spirit, educational opportunities, and scenic beauty make it a place that residents are proud to call home. Wake Forest is a testament to what a dedicated community can achieve, where the past meets the future in perfect harmony.
THE LAST ROOF YOU'LL EVER NEED.
EVER.
The President of the company responded immediately to our need for a new roof, and was extremely helpful & responsive throughout the process. This is the 2nd home on which we installed this roof - and both end results are amazing. I highly recommend this product & the Metal Roof NC team - you will be thrilled with your "new" home! 
When others tried to talk us out of a metal roof, not even wanting to talk about it, James came in and told us he had something better to offer. He suggested the Aluminum InterLock System. Thank you James and your wonderful team for our beautiful roof. We absolutely LOVE it!  
Metal Roof NC installed a beautiful, aluminum shingle roof on our log home in July 2019.  The product is absolutely beautiful, and the work done by Metal Roof NC team was amazing. They did a meticulous job on the installation, cleaned up completely and were extremely courteous and understanding.
The purpose of this letter is to thank you for an absolutely outstanding job in recommending, selling, and installing an Interlock aluminum slate shingle roof on our home in Fayetteville NC.  You and your team did an amazing job!  In summary we are extremely pleased with the Interlock product, and could not be happier. ​
READ OUR GOOGLE REVIEWS →
Metal Roof NC services all of North Carolina.  We service all cities and towns. From Winston Salem to the coast.
Contact us today for a free to you down to the penny price.

5301 Hillsborough St Ste 207
Raleigh NC 27606