Your North Carolina Interlock® Metal Roof Dealer -  The Leader in Metal Roofing
Metal Roof NC has been providing metal roofing services in the Raleigh area for over 22 years. We are certified, insured and bonded. We specialize in residential, commercial roofing and exterior services. Our stellar reputation has made Metal Roof NC the trusted name for metal roofing in Raleigh NC. 
If you're looking for a new metal roof and you want it installed by the best metal roofing contractor Raleigh has to offer, then give Metal Roof NC a call!
 As a homeowner, putting a new metal roof on your home is one of the biggest investments you will make and it's a very important decision. There are dozens of metal roofing contractors in Raleigh to choose from, but getting the work done by the best residential and commercial metal roofing contractor will give you peace of mind in knowing that you will get the best quality metal roof that fits your budget.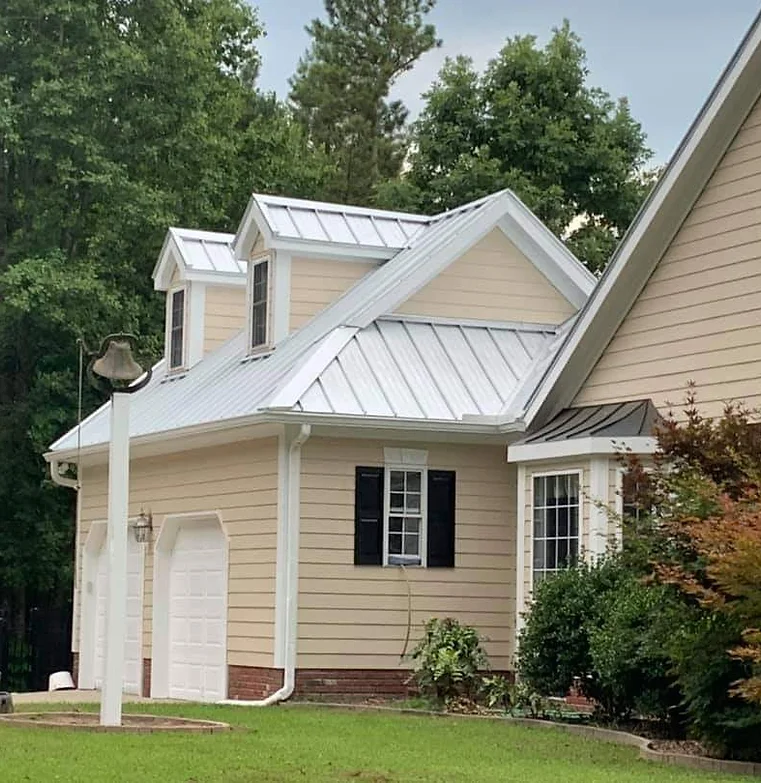 METAL Roof Styles In  Raleigh NC
INTERLOCK® SLATE METAL ROOFING
Unrivaled Aesthetics: Interlock Slate Metal Roofing replicates the authentic charm of traditional slate shingles with remarkable precision. The result? A roof that radiates classic elegance, enhancing the curb appeal of your home and providing a versatile complement to various architectural styles.
Exceptional Durability: Say goodbye to the worries of cracking, chipping, or rot that often plague natural slate. Interlock Slate Metal Roofing is crafted from high-quality steel or aluminum, designed to withstand even the harshest weather conditions. This means your roof maintains its beauty and structural integrity for years to come.
Low Maintenance, High Value: Traditional slate roofing requires meticulous maintenance, but not with Interlock. These metal shingles are virtually maintenance-free, saving you time and money over the life of your roof. Say hello to a roofing solution that adds value to your home without adding to your to-do list.
INTERLOCK® SHAKE METAL ROOFING in Raleigh
Interlock® Shake Metal Roofing offers a harmonious blend of timeless aesthetics and contemporary functionality. These metal shakes perfectly mimic the organic texture and grain of traditional cedar shakes, delivering an enduring charm that complements various architectural styles. Crafted from premium steel or aluminum, this roofing solution guarantees remarkable strength and corrosion resistance. It can endure harsh weather conditions without showing signs of wear, ensuring that your roof retains its structural integrity and beauty over the years. The low maintenance requirements mean you can enjoy the stunning appeal of shakes without the need for extensive upkeep, translating to long-term savings and peace of mind. Additionally, Interlock Shake Metal Roofing often features reflective coatings for enhanced energy efficiency, contributing to a more comfortable and cost-effective living environment. This roofing solution is not only visually appealing but also a practical investment that elevates your home's curb appeal and value. READ MORE
Interlock® Cedar Shingle Metal Roofing: Classic Elegance, Modern Durability
Unlike natural cedar shingles, which are susceptible to issues like rot, moss growth, and insect damage, Interlock Cedar Shingle Metal Roofing is engineered to last. These metal shingles are constructed from robust steel or aluminum coated with a special finish to emulate the appearance of cedar. This construction ensures they are highly durable and can withstand the harshest weather conditions without deteriorating. They are impervious to rot, mold, and insect infestations, providing a significantly extended service life. What's more, Interlock Cedar Shingle Metal Roofing is renowned for its low maintenance requirements. Traditional cedar shingles often necessitate regular cleaning, staining, and even replacement due to weathering. In contrast, Interlock shingles maintain their appearance and structural integrity without the need for extensive upkeep. This results in savings on maintenance costs and time over the life of the roof.  READ MORE
Introducing Interlock® Tile Metal Roofing, where classic aesthetics meet the strength of modern engineering.
Unlike traditional clay or concrete tiles, which may be susceptible to cracking, chipping, or deterioration in adverse weather, Interlock Tile Metal Roofing in Raleigh is engineered to last. These tiles are crafted from premium steel or aluminum coated with a special finish to mimic the appearance of clay or concrete. This construction ensures they are exceptionally robust and capable of withstanding even the harshest elements. They are resistant to cracking, chipping, or breakage, offering an extended service life. What's more, Interlock Tile Metal Roofing is known for its low maintenance requirements. Traditional roofing materials often necessitate periodic inspections, cleaning, or repairs. In contrast, Interlock tiles remain virtually maintenance-free. This translates to long-term savings on maintenance costs and peace of mind for homeowners. READ MORE
Elevate Your Raleigh NC Home with Interlock® Copper Metal Roofing
Unmatched Durability and Minimal Maintenance: Copper's natural patina actually protects the material from further corrosion, making it one of the most low-maintenance roofing options available in Raleigh, NC. It requires no coatings, treatments, or cleaning to maintain its structural integrity. Interlock Copper Metal Roofing is designed to last a lifetime and beyond. Copper is highly corrosion-resistant, impervious to rust or rot, and capable of withstanding extreme weather conditions. Its durability ensures it can endure even the harshest elements, including heavy rains and coastal environments. Many Interlock Copper Metal Roofing systems come with reflective coatings that boost energy efficiency, helping to regulate the temperature within your home and reducing heating and cooling costs.. READ MORE
Elevate Your Home with Interlock® Standing Seam Metal Roofing in Raleigh
Interlock Standing Seam Metal Roofing is crafted from premium steel or aluminum, providing exceptional strength and resistance to corrosion. This roofing solution is built to withstand even the harshest elements, making it an ideal choice for homes in challenging weather conditions. The minimal maintenance requirements of Interlock Standing Seam Metal Roofing ensure that your investment remains cost-effective and your roof looks fantastic over time. Unlike traditional roofing materials that may need frequent inspections, repairs, or cleaning, this solution is virtually maintenance-free, providing peace of mind and long-term savings.
Raleigh, North Carolina: A Capital City of Promise and Prosperity
Raleigh, the capital city of North Carolina, is a dynamic and thriving metropolis that embodies the perfect blend of rich history, innovative progress, and Southern charm. Nestled in the heart of the Research Triangle region, Raleigh has emerged as a prime destination for residents and businesses seeking a balanced and vibrant lifestyle.
A Historic Foundation: Raleigh's roots extend back to its founding in 1792, chosen as the state capital for its central location. The city's historic treasures include the North Carolina State Capitol, a Greek Revival masterpiece, and the Mordecai Historic Park, providing a window into Raleigh's early history. This rich historical backdrop adds depth and character to the city's modern identity.
Educational Excellence: Raleigh is renowned for its educational institutions. The presence of North Carolina State University, Shaw University, and Meredith College contributes to a culture of learning and innovation. The city's commitment to education extends to the K-12 level, with a robust public school system and a variety of private schools.
Research and Innovation: As a part of the Research Triangle Park, Raleigh is a hub for research and innovation. The region hosts numerous technology companies, biotech firms, and research institutions, making it a magnet for talented professionals and entrepreneurs. Raleigh's dedication to cutting-edge technology and scientific advancement is driving economic growth and attracting creative minds from around the world.
Cultural Enrichment: Raleigh offers a thriving cultural scene with a multitude of museums, galleries, and performing arts venues. The North Carolina Museum of Art, the North Carolina Museum of Natural Sciences, and the Progress Energy Center for the Performing Arts are just a few of the city's cultural gems. The Raleigh City Market, a historic market area turned into a lively shopping and dining district, adds a unique touch to the city's culture.
Green Spaces and Recreation: Raleigh is a city of greenery and outdoor exploration. With an extensive network of parks, including Umstead State Park and Pullen Park, there are countless opportunities for hiking, picnicking, and leisurely walks. The Neuse River Trail is a popular spot for outdoor enthusiasts, offering scenic views and an excellent biking path.
Economic Opportunities: Raleigh's economy is robust and diversified. The presence of major corporations, a burgeoning startup scene, and a strong job market makes it an attractive destination for professionals in various fields. The city's commitment to economic development ensures a promising future for businesses and residents alike.
Quality of Life: Raleigh consistently ranks among the best places to live in the United States. The combination of excellent healthcare, a low cost of living, good schools, and a strong sense of community makes it an ideal place to call home.
In conclusion, Raleigh is a city of promise and prosperity. It has masterfully preserved its historical heritage while embracing the challenges and opportunities of the modern age. Raleigh is more than just a state capital; it is a dynamic and welcoming city that invites residents and visitors to experience the best of North Carolina's culture, innovation, and quality of life.
THE LAST ROOF YOU'LL EVER NEED.
EVER.
The President of the company responded immediately to our need for a new roof, and was extremely helpful & responsive throughout the process. This is the 2nd home on which we installed this roof - and both end results are amazing. I highly recommend this product & the Metal Roof NC team - you will be thrilled with your "new" home! 
When others tried to talk us out of a metal roof, not even wanting to talk about it, James came in and told us he had something better to offer. He suggested the Aluminum InterLock System. Thank you James and your wonderful team for our beautiful roof. We absolutely LOVE it!  
Metal Roof NC installed a beautiful, aluminum shingle roof on our log home in July 2019.  The product is absolutely beautiful, and the work done by Metal Roof NC team was amazing. They did a meticulous job on the installation, cleaned up completely and were extremely courteous and understanding.
The purpose of this letter is to thank you for an absolutely outstanding job in recommending, selling, and installing an Interlock aluminum slate shingle roof on our home in Fayetteville NC.  You and your team did an amazing job!  In summary we are extremely pleased with the Interlock product, and could not be happier. ​
READ OUR GOOGLE REVIEWS →
Metal Roof NC services all of North Carolina.  We service all cities and towns. From Winston Salem to the coast.
Contact us today for a free to you down to the penny price.

5301 Hillsborough St Ste 207
Raleigh NC 27606