Your North Carolina Interlock® Metal Roof Dealer -  The Leader in Metal Roofing
Experience the Elegance of Interlock® Slate Metal Roofing in North Carolina
Interlock® Slate Metal Shingles
Metal Slate Roof Tiles: A Modern Twist on Classic Slate Shingles
Slate shingles have long been celebrated for their timeless elegance and exceptional durability. However, for homeowners seeking a fresh take on this classic roofing material, metal slate roof tiles offer a modern twist that combines aesthetics, longevity, and eco-friendliness. These innovative roofing materials have gained popularity for their ability to replicate the beauty of natural slate while addressing some of its inherent limitations.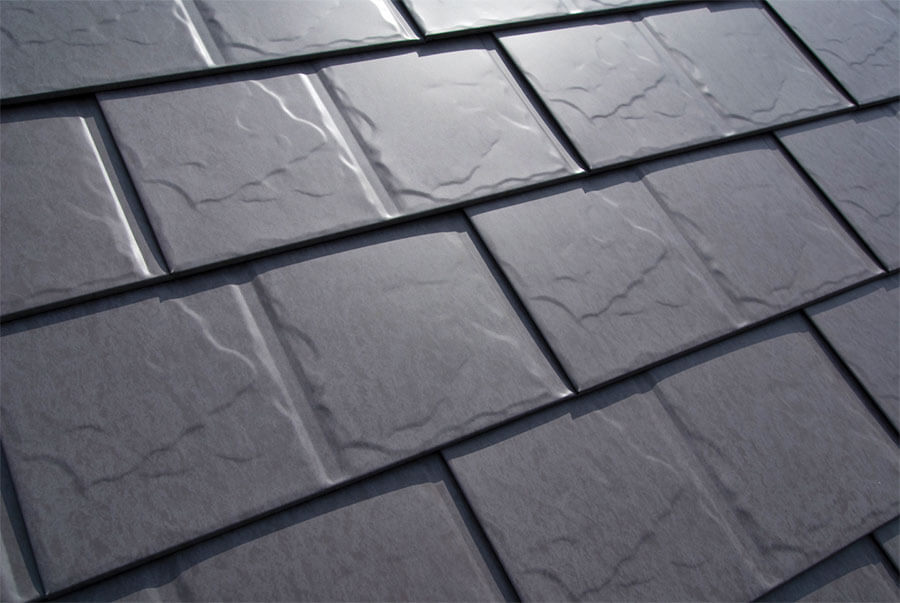 The Aesthetic Appeal
Metal slate roof tiles capture the authentic look of natural slate with remarkable precision. They are available in a variety of colors and textures, ensuring that homeowners can choose a style that complements their architectural preferences. This provides the flexibility to achieve the classic, rustic appearance of traditional slate or explore more contemporary designs.
Durability and Longevity
One of the primary advantages of metal slate roof tiles is their exceptional durability. These tiles are crafted from strong and corrosion-resistant materials such as steel or aluminum, ensuring they can withstand harsh weather conditions, including heavy rain, hail, and strong winds. Unlike natural slate, metal tiles are not prone to cracking or chipping, offering a longer service life.
Environmental Friendliness
Metal slate roof tiles are an environmentally conscious choice. They are often made from recycled materials and are fully recyclable at the end of their lifespan, reducing their environmental impact. Furthermore, their longevity means they require fewer replacements over time, reducing the overall carbon footprint associated with roofing materials.
Lightweight Design
Compared to natural slate, metal slate roof tiles are considerably lighter, reducing the structural demands on your home. This can be particularly advantageous for both new constructions and retrofitting existing homes with slate-style roofing.
Installation and Maintenance
The installation of metal slate roof tiles is generally easier and more cost-effective than traditional slate shingles. This can translate to lower labor costs and quicker project completion. Maintenance is also simplified, as these tiles do not require the same level of care and replacement that natural slate often demands.
Energy Efficiency
Metal slate roof tiles often feature reflective coatings that increase energy efficiency by deflecting sunlight and reducing heat absorption. This can lead to a cooler attic and lower cooling costs during hot summer months.
In summary, metal slate roof tiles are a modern and eco-friendly alternative to traditional slate shingles, offering the timeless beauty of slate with enhanced durability, environmental benefits, and lower maintenance requirements. When it comes to roofing, they successfully merge classic aesthetics with contemporary sensibilities, providing homeowners with an attractive and practical choice for their roofing needs.
Interlock® Roofing Shingle Colors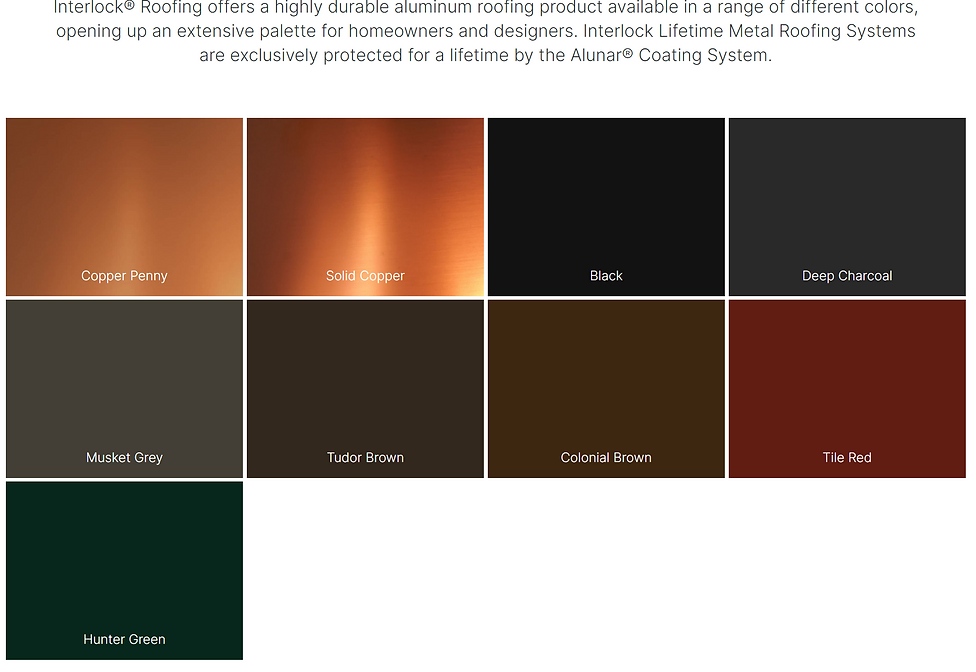 THE LAST ROOF YOU'LL EVER NEED.
EVER.
The President of the company responded immediately to our need for a new roof, and was extremely helpful & responsive throughout the process. This is the 2nd home on which we installed this roof - and both end results are amazing. I highly recommend this product & the Metal Roof NC team - you will be thrilled with your "new" home! 
When others tried to talk us out of a metal roof, not even wanting to talk about it, James came in and told us he had something better to offer. He suggested the Aluminum InterLock System. Thank you James and your wonderful team for our beautiful roof. We absolutely LOVE it!  
Metal Roof NC installed a beautiful, aluminum shingle roof on our log home in July 2019.  The product is absolutely beautiful, and the work done by Metal Roof NC team was amazing. They did a meticulous job on the installation, cleaned up completely and were extremely courteous and understanding.
The purpose of this letter is to thank you for an absolutely outstanding job in recommending, selling, and installing an Interlock aluminum slate shingle roof on our home in Fayetteville NC.  You and your team did an amazing job!  In summary we are extremely pleased with the Interlock product, and could not be happier. ​
READ OUR GOOGLE REVIEWS →
Metal Roof NC services all of North Carolina.  We service all cities and towns. From Winston Salem to the coast.
Contact us today for a free to you down to the penny price.

5301 Hillsborough St Ste 207
Raleigh NC 27606