Your North Carolina Interlock® Metal Roof Dealer -  The Leader in Metal Roofing
Interlock® 
SOLID COPPER METAL ROOFING
Interlock® Solid Copper Metal Roofing: Unmatched Elegance and Timeless Durability
Interlock® Solid Copper Metal Roofing is a masterpiece of roofing craftsmanship that epitomizes the pinnacle of both elegance and durability. This roofing solution showcases the natural beauty of copper, providing homeowners with a roofing material that offers unmatched aesthetics and a lifespan that spans generations..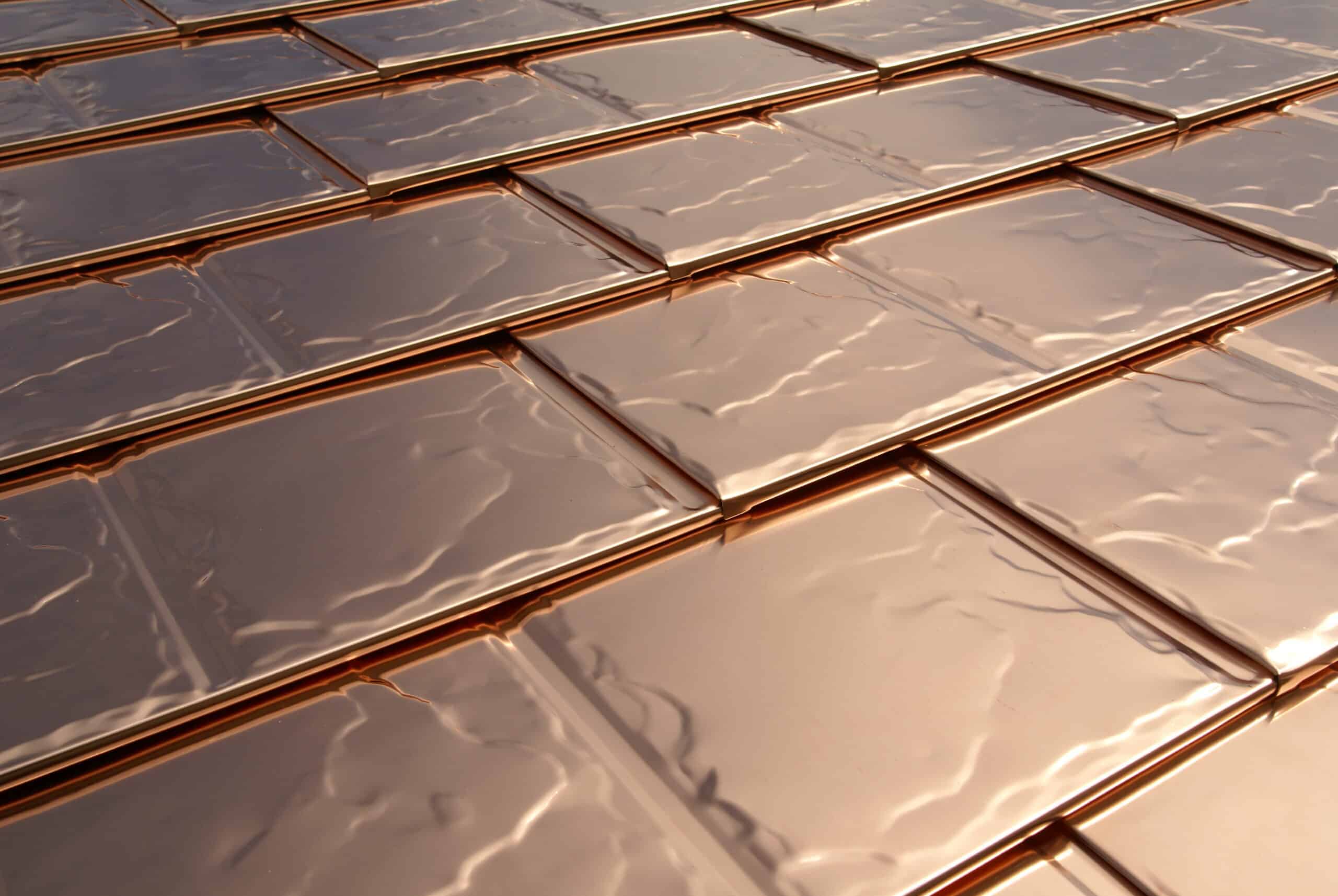 Timeless Aesthetic Appeal
Copper is celebrated for its stunning natural appearance that gracefully weathers over time. Interlock® Solid Copper Metal Roofing retains the distinctive charm of copper and exhibits a brilliant, ever-changing patina. Its rich and warm tones evolve from a bright, shimmering finish to various shades of brown, bronze, and green as it ages, creating an ever-evolving, elegant, and timeless look that complements a wide range of architectural styles.
Exceptional Durability and Lifespan
Interlock® Solid Copper Metal Roofing is built to last a lifetime and beyond. Copper is highly corrosion-resistant and impervious to rust or rot, making it ideal for extreme weather conditions. Its durability ensures it can withstand even the harshest elements, including heavy rains and coastal environments. Copper's longevity is legendary, and many copper roofs last for well over a century.
Low Maintenance and Eco-Friendly
Copper's natural patina actually protects the material from further corrosion, making it one of the most low-maintenance roofing options available. It requires no coatings, treatments, or cleaning to maintain its structural integrity. Additionally, copper is fully recyclable, making it an eco-friendly choice that supports sustainable practices.
Unique Energy Efficiency
Interlock® Solid Copper Metal Roofing has natural thermal properties that contribute to energy efficiency. It helps to regulate the temperature within your home by reflecting heat during the summer and retaining warmth in the winter. This natural insulation can lead to reduced energy consumption and lower heating and cooling costs.
A Remarkable Investment
Investing in Interlock® Solid Copper Metal Roofing is a choice that signifies a profound appreciation for timeless aesthetics and a commitment to lasting quality. This roofing material unites the unmatched beauty of copper with its enduring strength and eco-friendly attributes. With Interlock® Solid Copper Metal Roofing, homeowners not only enjoy the stunning allure of copper but also gain a roofing solution that will grace their homes for generations, offering unparalleled value and performance.
Interlock® Roofing Shingle Colors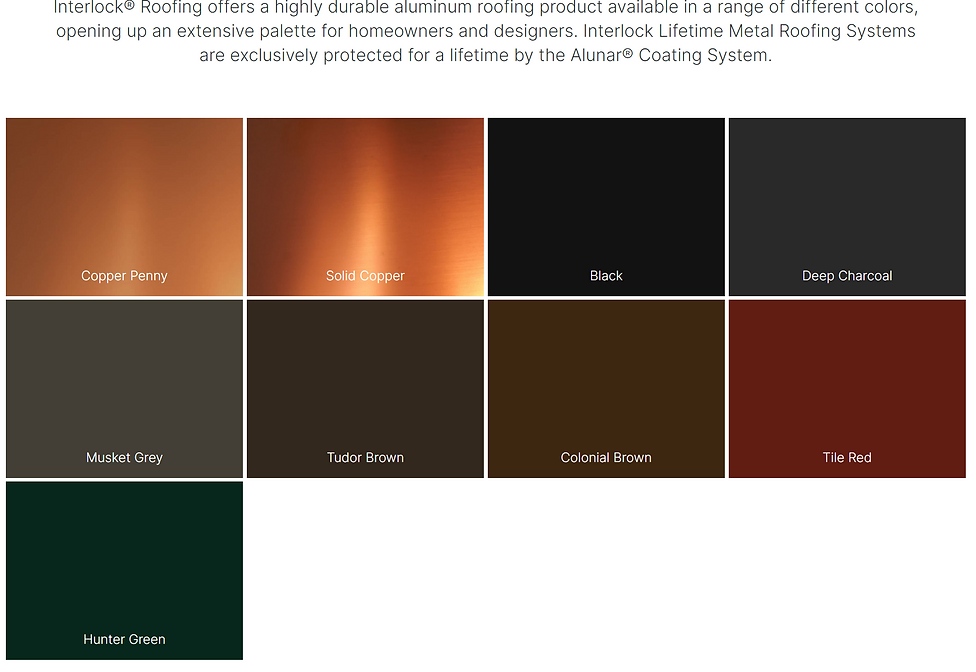 THE LAST ROOF YOU'LL EVER NEED.
EVER.
The President of the company responded immediately to our need for a new roof, and was extremely helpful & responsive throughout the process. This is the 2nd home on which we installed this roof - and both end results are amazing. I highly recommend this product & the Metal Roof NC team - you will be thrilled with your "new" home! 
When others tried to talk us out of a metal roof, not even wanting to talk about it, James came in and told us he had something better to offer. He suggested the Aluminum InterLock System. Thank you James and your wonderful team for our beautiful roof. We absolutely LOVE it!  
Metal Roof NC installed a beautiful, aluminum shingle roof on our log home in July 2019.  The product is absolutely beautiful, and the work done by Metal Roof NC team was amazing. They did a meticulous job on the installation, cleaned up completely and were extremely courteous and understanding.
The purpose of this letter is to thank you for an absolutely outstanding job in recommending, selling, and installing an Interlock aluminum slate shingle roof on our home in Fayetteville NC.  You and your team did an amazing job!  In summary we are extremely pleased with the Interlock product, and could not be happier. ​
READ OUR GOOGLE REVIEWS →
Metal Roof NC services all of North Carolina.  We service all cities and towns. From Winston Salem to the coast.
Contact us today for a free to you down to the penny price.

5301 Hillsborough St Ste 207
Raleigh NC 27606