Your North Carolina Interlock® Metal Roof Dealer -  The Leader in Metal Roofing
Metal Roof NC has been providing metal roofing services in the Mebane area for over 22 years. We are certified, insured and bonded. We specialize in residential, commercial roofing and exterior services. Our stellar reputation has made Metal Roof NC the trusted name for metal roofing in Mebane NC. 
If you're looking for a new metal roof and you want it installed by the best metal roofing contractor Mebane has to offer, then give Metal Roof NC a call!
 As a homeowner, putting a new metal roof on your home is one of the biggest investments you will make and it's a very important decision. There are dozens of metal roofing contractors in Mebane to choose from, but getting the work done by the best residential and commercial metal roofing contractor will give you peace of mind in knowing that you will get the best quality metal roof that fits your budget.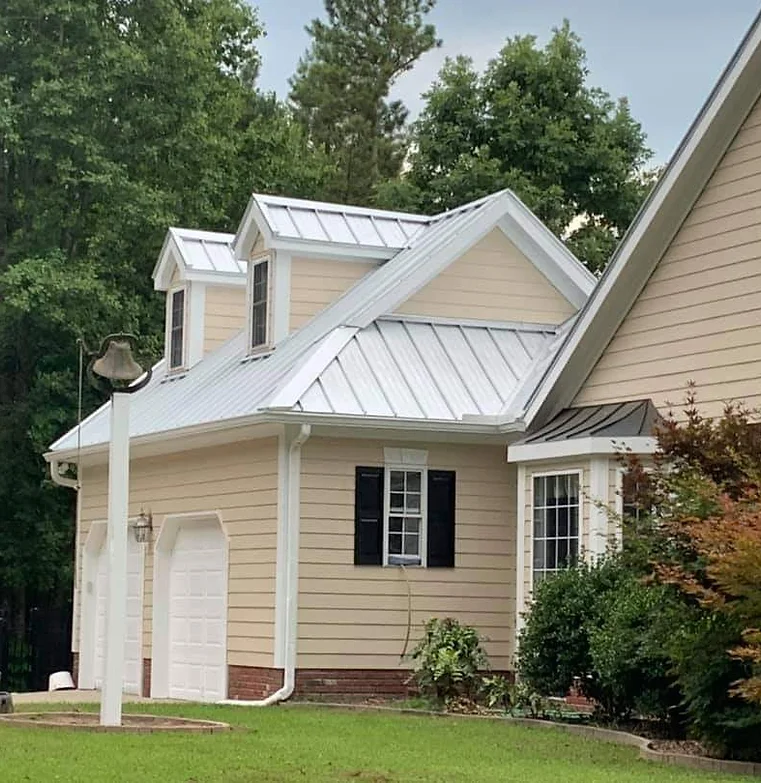 METAL Roof Styles In  Mebane NC
INTERLOCK® SLATE METAL ROOFING
Interlock® Slate Metal Roofing is the roofing solution that effortlessly blends timeless elegance with the unbeatable durability of modern engineering. If you're in search of a roof that captures the classic beauty of natural slate while offering strength and longevity that stands the test of time, look no further. Interlock Slate Metal Roofing authentically replicates the aesthetic of traditional slate shingles, replete with the authentic texture and charm of natural stone. It adds a touch of timeless elegance that complements a wide range of architectural styles, from historic homes to contemporary designs.
INTERLOCK® SHAKE METAL ROOFING in Mebane
Interlock® Shake Metal Roofing redefines the possibilities for homeowners who adore the rustic charm of traditional cedar shake roofing. This roofing solution captures the authentic look of cedar shakes while delivering the durability, longevity, and low-maintenance benefits that modern homeowners demand. Interlock Shake Metal Roofing allows you to enjoy the timeless appeal of shakes without the typical drawbacks, such as rot, mold, and insect infestations. Crafted from robust steel or aluminum and designed to withstand the harshest weather conditions, this roofing option is virtually maintenance-free. It retains its structural integrity and aesthetic allure over the years, sparing you the inconvenience of regular upkeep and providing enduring value for your home. Moreover, its eco-friendly design and energy-efficient features make it a responsible choice that aligns with sustainability and provides insulation to regulate your home's temperature. Elevate your home with Interlock Shake Metal Roofing and enjoy a roofing solution that combines classic aesthetics with contemporary practicality. READ MORE
Interlock® Cedar Shingle Metal Roofing: Classic Elegance, Modern Durability
Unlike natural cedar shingles, which are susceptible to issues like rot, moss growth, and insect damage, Interlock Cedar Shingle Metal Roofing is engineered to last. These metal shingles are constructed from robust steel or aluminum coated with a special finish to emulate the appearance of cedar. This construction ensures they are highly durable and can withstand the harshest weather conditions without deteriorating.
Environmentally Responsible Design: Interlock Cedar Shingle Metal Roofing is an environmentally conscious choice. These shingles are manufactured with sustainability in mind, using recycled materials and reducing waste. By choosing Interlock Cedar Shingle Metal Roofing, Mebane homeowners contribute to a reduced ecological footprint and support eco-friendly roofing solutions.
Introducing Interlock® Tile Metal Roofing, where classic aesthetics meet the strength of modern engineering.
Introducing Interlock® Tile Metal Roofing in Mebane, where classic aesthetics meet the strength of modern engineering. For homeowners who desire a roofing solution that blends the timeless beauty of clay or concrete tiles with unparalleled durability, this is the pinnacle of roofing excellence. Interlock Tile Metal Roofing authentically replicates the look of traditional tiles with meticulous precision.
Interlock Tile Metal Roofing is a responsible choice for eco-conscious homeowners. These roofing materials are manufactured with sustainability in mind, often using recycled materials and reducing waste during production. Additionally, the tiles' longevity and low maintenance needs reduce the overall environmental impact, making them an eco-friendly choice that supports sustainable practices.
Elevate Your Mebane NC Home with Interlock® Copper Metal Roofing
Interlock Copper Metal Roofing is designed to last a lifetime and beyond. Copper is highly corrosion-resistant, impervious to rust or rot, and capable of withstanding extreme weather conditions. Its durability ensures it can endure even the harshest elements, including heavy rains and coastal environments. Many Interlock Copper Metal Roofing systems come with reflective coatings that boost energy efficiency, helping to regulate the temperature within your home and reducing heating and cooling costs.
Environmentally Responsible and Eco-Friendly: Interlock Copper Metal Roofing is an environmentally responsible choice. These roofing materials are not only known for their longevity but also their eco-friendliness. Copper is fully recyclable, making it a sustainable option that supports eco-conscious practices. By choosing Interlock Copper Metal Roofing, you are not only making an investment in your home but also in a roofing solution that aligns with your commitment to sustainability.
Elevate Your Home with Interlock® Standing Seam Metal Roofing in Mebane
Energy Efficiency and Environmentally Responsible Design: Interlock Standing Seam Metal Roofing systems often feature reflective coatings that boost energy efficiency. By reflecting sunlight and reducing heat absorption, these panels help regulate your home's temperature, leading to lower heating and cooling costs. Furthermore, these panels are environmentally responsible, often made with recycled materials and waste reduction during production. This makes Interlock Standing Seam Metal Roofing an eco-friendly choice that aligns with sustainable practices.
A Modern Investment in Quality: Opting for Interlock Standing Seam Metal Roofing is a declaration of your commitment to modern aesthetics and lasting quality. This roofing solution combines contemporary style with unmatched durability, low maintenance, and energy efficiency.
Mebane, North Carolina: Where History Meets Progress
Mebane, a charming town nestled in the heart of North Carolina, offers a unique blend of historical charm and modern opportunity. Named after a prominent figure in the state's history, Alexander Mebane, the town is a testament to how a rich past can harmonize with a promising future.
Historical Significance: Mebane's roots stretch back to the early 19th century, where it was established as a prominent trading and commercial hub. The Mebane Historic District, located in the town center, is home to beautifully preserved historic buildings, each with its unique story to tell. The district's welcoming ambiance and classic architecture make it an ideal place to stroll, shop, and explore the town's heritage.
Economic Growth: Mebane has strategically positioned itself to leverage its proximity to the Research Triangle Park, one of the nation's premier centers for research, technology, and innovation. This location has contributed to the town's economic growth and made it a prime destination for professionals and businesses looking to establish a presence in a thriving region. Numerous retail outlets, businesses, and industries have found a home in Mebane, bolstering the local economy and providing opportunities for residents.
Quality of Life: Residents of Mebane are drawn to the town's exceptional quality of life. The community values education, and the town boasts an array of highly regarded schools, both public and private. The town's commitment to learning is evident in the Mebane Public Library, which provides valuable resources and programs for all ages.
Natural Beauty and Recreation: Mebane is surrounded by stunning natural landscapes and outdoor recreational opportunities. The town's proximity to the Haw River, Jordan Lake, and several parks offers residents and visitors the chance to explore and appreciate the great outdoors. From hiking and boating to bird-watching and picnicking, there's no shortage of ways to enjoy the natural beauty that envelops the town.
Cultural Vibrancy: The town's cultural scene is thriving. The Mebane Arts and Community Center hosts a variety of cultural events, including art exhibitions, music performances, and workshops. These offerings enrich the lives of residents and provide a vibrant atmosphere for creative expression.
Mebane, North Carolina, embodies the essence of a small town with big opportunities. Its historic charm is complemented by its modern growth, making it a town that values its heritage while embracing the future. Whether you're seeking a community rich in history, a promising career, or a peaceful and welcoming place to call home, Mebane offers it all.
THE LAST ROOF YOU'LL EVER NEED.
EVER.
The President of the company responded immediately to our need for a new roof, and was extremely helpful & responsive throughout the process. This is the 2nd home on which we installed this roof - and both end results are amazing. I highly recommend this product & the Metal Roof NC team - you will be thrilled with your "new" home! 
When others tried to talk us out of a metal roof, not even wanting to talk about it, James came in and told us he had something better to offer. He suggested the Aluminum InterLock System. Thank you James and your wonderful team for our beautiful roof. We absolutely LOVE it!  
Metal Roof NC installed a beautiful, aluminum shingle roof on our log home in July 2019.  The product is absolutely beautiful, and the work done by Metal Roof NC team was amazing. They did a meticulous job on the installation, cleaned up completely and were extremely courteous and understanding.
The purpose of this letter is to thank you for an absolutely outstanding job in recommending, selling, and installing an Interlock aluminum slate shingle roof on our home in Fayetteville NC.  You and your team did an amazing job!  In summary we are extremely pleased with the Interlock product, and could not be happier. ​
READ OUR GOOGLE REVIEWS →
Metal Roof NC services all of North Carolina.  We service all cities and towns. From Winston Salem to the coast.
Contact us today for a free to you down to the penny price.

5301 Hillsborough St Ste 207
Raleigh NC 27606